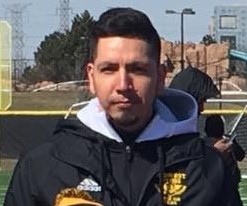 Bio
Head Coach

Teams: Boys 2010 Gold, 2010 Black, 2009

Assistant Coach: Girls 2004

E License 

Kidsoccer Coach 2015-2017

Midwest Wings coach 2017- Present
Playing Experience
Club: Atl Nacional,Jamay FC 1x Coca Cola Cup Champion 2005 division

Gallistel Language Academy: 1x All City Public League Champion

George Washington HS: 4 Year Varsity, 2x City Public League Champion, and 3x Sectional champion.
My history with the soccer club started while coaching Kidsoccer. My son currently played with the Midwest Wings from the age 8-11. I continued to coach due to my passion for the sport. Soccer has always been part of my life. I created many friendships, met many great kids, created new friendships with different coaches, parents, won several championships while coaching the 2010 boys. attended 2019 Coaches Convention in Chicago, during that weekend I was lucky enough to Attend the MLS SuperDraft, I have attended USA CUP 2019.